Packard Bell Evergreen 2 M/Board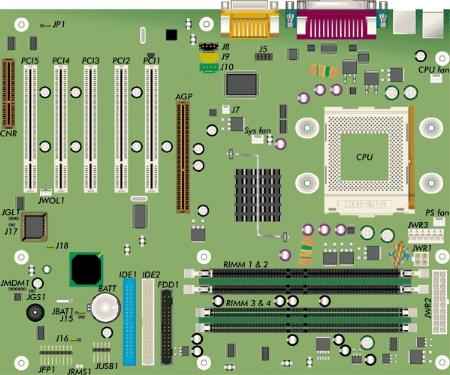 The differences between the Evergreen and the Evergreen 2 motherboard are:
CPU: supports higher Pentium 4 frequencies ranging from 1.7 to 2 GHz
Chipset: new revision of the i850, including the MCH rev A3 and the ICH rev B4
Audio: new AD chipset (instead of Yamaha on Evergreen 1)
BIOS: S3 mode support
PC 2001 compliant
Specification
Audio: AD1881A
Bios: Phoenix
Chipset: Intel 850 chipset consists of the 82850 Memory Controller Hub (MCH rev. A3) and the 82801BA I/O Controller Hub (ICH2 rev. B4).
CPU Support :

Socket PGA 423.
Supports Intel P4 FC-PGA (Flip-Chip Pin Grid Array), 1.7 GHz and 2 GHz.
100 MHz (x 4 = 400 MHz) data bus support (quad-pumping technology).

Form Factor : Full ATX (12 x 7.75 inch - 30.48 x 19.68 cm) Form Factor.
I/O Controller : WINBOND W83627HF-AW
RAM :

Supports 4 memory slots (2x2 channels) using four 184-edge connector pads RIMMs with gold-plated contacts.
Memory bus frequency: 400 MHz.
Supports high speed 800 (PC800) MHz transfer rate.
Serial Presence Detect (SPD) support.
Operates from a 2.5 V supply (± 5%).
Supports both ECC and non-ECC RIMMs.
Low power and power-down self refresh modes.
Supports a maximum memory size of 768 MB. Because memory modules have to be installed in pairs, this maximum can only be achieved using 2 x 256 MB + 2 x 128 MB memory modules.
Jumpers
Jumper
Configuration
JBAT1 - Clear CMOS jumper
1-2: Normal operation (default)
2-3: Clear current BIOS
J16 - Speaker Out
1-2: To speaker
2-3: To buzzer (default)
JP1 - On-board audio
1-2: Enable on-board audio codec (default)
2-3: Disable on-board audio codec
J17 - BIOS write protect
Open: Normal (default)
Closed: BIOS write protect
J18 - Clear password
Open: Clear password
Closed: Normal (default)