Packard Bell Columbia M/Board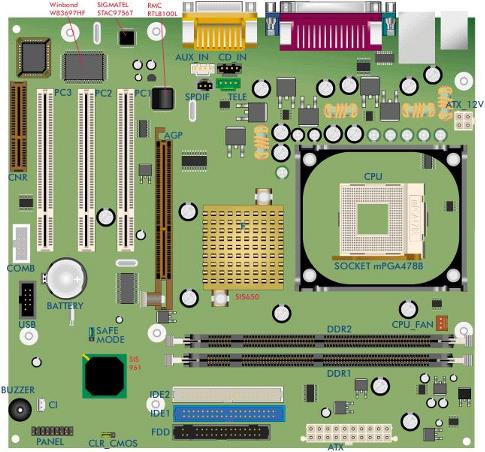 Specification
Audio: SigmaTel Technologies STAC9756T - audio codec
Bios: AMI
Chipset :

SiS 650 IGUI HMAC 3D Graphic SDR/DDR
SiS 961 MuTIOL Media I/O

CPU Support : Socket MPGA 478B.

Supports Intel P4 FC-PGA2 (0.18 Micron, 256K cache, 400 MHz FSB), 1.4 to 2.4 GHz
Supports Intel P4 FC-PGA2 (0.13 Micron, 512K cache, 400 MHz FSB), 1.8 to 2.4 GHz
Supports Intel Celeron FC-PGA2 (0.18 Micron, 128K cache 400 MHz FSB) 1.9 GHz
100 MHz (x4 = 400 MHz) data bus support (Quad-Bumped technology).

Ethernet : Realtek RTL8100(BL) 10/100
Form Factor : ATX 24.4 x 22.9 cm Form Factor.
RAM :

Supports 2 memory slots.
Serial Presence Detect (SPD) support.
Supports a maximum memory size of 512 MB (using 2x256 MB memory modules).
Support only 2.5 V DIMM DDRAM configurations.
Unbuffered type support.
266 Mhz DDR interface.
Jumpers
Jumper
Configuration
CLR_CMOS
1-2: Enable
2-3: Normal (default)
SAFEMODE
1-2: Normal (default)
2-3: Safe Mode
Connectors
3x PCI slots
2x DB9 serial ports
1x DB25 parallel port with SPP, ECP, EPP, BPP modes
1x PS/2 keyboard port
1x PS/2 mouse port
4x USB connectors.
1x MIDI port
1x Microphone input (Mic-In)
1x Line-In
1x Line-Out
1x Aux In
1x RJ45 connector
2x IDE connectors
1x Floppy connector
1x CNR connector
Note: The CNR connector is a combo slot with the bottom PCI connector. Use either the CNR or the PCI connector; you cannot use both connectors at the same time.
Note: Keyboard and mouse ports are not swappable.
Front Panel Connector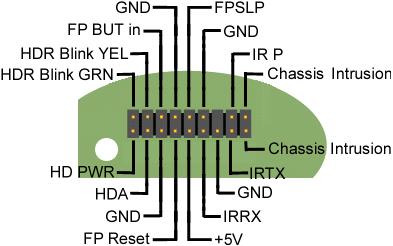 Back Panel

A - PS/2 mouse port
B - PS/2 keyboard port
C - USB port 1
D - USB port 2
E - Serial port
F - VGA
G - Stereo line-out
H - Stereo line-in
I - Mono microphone-in
J - Parallel port
K - MIDI and game port
L - RJ45 LAN Connector