Packard Bell 800/805 M/Board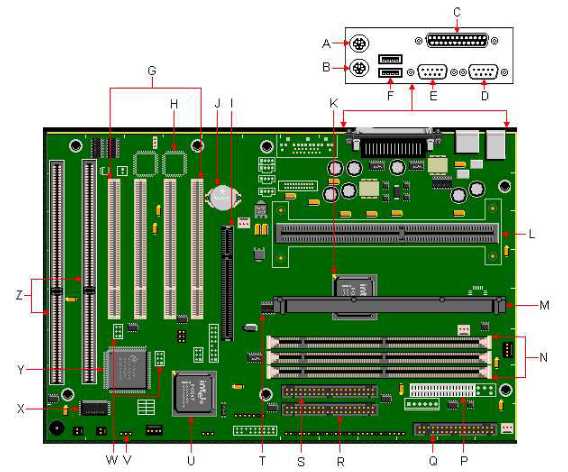 | Item | Description | Item | Description |
| --- | --- | --- | --- |
| A | PS/2 Keyboard Port | N | DIMM Sockets |
| B | PS/2 Mouse Port | P | Power Supply Connector |
| C | Parallel Port | Q | Floppy Connector |
| D | Serial Port 2 | R | Primary IDE Connector |
| E | Serial Port 1 | S | Secondary IDE Connector |
| F | USB Ports | T | CYP2275A Frequency Generator |
| G | PCI Slots | U | PC97307-VUL Super I/O Controller |
| H | Yamaha OPL3-SA3 Solder Pad (Optional) | V | System Configuration Jumper Block J8B2 |
| I | AGP Port | W | Yamaha OPL4-ML Wavetable Upgrade Module Headers (Optional) |
| J | Battery | X | Flash BIOS |
| K | 82443LX PCI AGP Controller (PAC) | Y | 82371AB PIIX4 |
| L | SLOT1 SEC Cartridge Connector | Z | ISA Slots |
| M | Heatsink Support Base | | |
Specification
Audio Options :

Yamaha OPL3-SA3 Audio Controller (PB805 only).
Yamaha OPL4-ML wavetable synthesizer (PB805 only).

Battery : Lithium 3V.
BIOS : Intel E28F002BXT80 2 MBit Flash EPROM. System BIOS by Phoenix
Bus : PCI/ISA based system bus. 66MHz maximum bus speed.
Cache : 32K level 1 cache. 512KB level 2 cache in the Single Edge Contact cartridge.
Chipset :

Intel® 82371AB PCI chipset (PllX4).
Intel® 82443LX PCI AGP Controller.

CPU : Intel Pentium II 233, 266, 300 or 333MHz (bus speed 66 MHz).
Form Factor : ATX
I/O : PC97307VUL I/O Controller.
Interfaces :

2 DB-9 Serial ports.
1 DB-25 Parallel port.
1 PS/2 keyboard port.
1 PS/2 mouse port.
2 USB connectors.
1 DB-15 MIDI/Game port(Optional).
3 Stereo mini-jacks for Line In, Line Out & Mic (PB805 only).

RAM : 3 168-pin DIMM sockets, upgradeable to 384MB total SDRAM.
Video Options : No on-board video.
Jumpers
Jumper
Configuration
J8B2
1-2 : Normal. The BIOS uses current configuration information and passwords for booting.
2-3 : Configure. After POST, CMOS Setup runs automatically. The maintenance menu is displayed.
None : Recovery. The BIOS attempts to recover the BIOS information. A recovery diskette is required.
BIOS Upgrade
The Flash Memory Update Program (FMUP) provides utilities:
The BIOS can be updated from a file.
The current BIOS code can be copied from the Flash EPROM to a disk file as a backup.
The current BIOS can be compared with a file on the disk.
BIOS Upgrade Procedure
Insert the BIOS update diskette and re-boot the system.
When the "Flash Memory Update Utility" message appears, press Enter to start the program.
Select the "Update FLASH Memory Area from a File" option, then press Enter.
Select the "Update System BIOS" option, press Enter.
Select the appropriate filename of the update BIOS file, press Enter.
Press Enter at the following screen to proceed with programming.
The BIOS is now re-programmed with the updated BIOS file. Now remove the diskette, and press Enter to reboot the computer system.
Complete the upgrade process by running the CMOS Setup program. Enter the appropriate system information, as all previous information has been erased.
Cache Upgrade
No cache can be installed on the motherboard. The cache memory is integrated in the CPU.
CPU Upgrades
The following processors can be installed on this motherboard:
Intel Pentium II 233, 266, 300 or 333MHz (bus speed 66 MHz).
After installation of a new processor, jumper J8B2 must be set to 2-3. After this, when the computer is started, the BIOS setup will appear automatically with the option to change the CPU speed.
Memory Upgrades
The PB800 motherboard has three DIMM (Dual In-line Memory Module) sockets. Before installing a new memory module, please verify that you have at least one available DIMM socket.
The DIMMs must be gold plated.
The DIMMs must be 3.3 V unbuffered SDRAM.
The modules should be 10, 12 or 15ns (10ns recommended). SDRAM modules of 8MB, 16MB, 32MB, 64MB or 128MB can be used. Maximum 384MB.
Both 66MHz and 100MHz DIMMs can be used.
Parity DIMMs can be installed, but are not recommended since the motherboard does not provide parity checking. Therefore only 32-bit DIMM modules (non-parity) should be used.
Both single and double-sized DIMMs can be used.
Memory type, size and speed can vary between sockets.
Video Memory Upgrades
The motherboard has no on-board video graphics controller. Video RAM upgrades are dependent on the specifications of the video card being used. Refer to the documentation for the specific video card being used.
Issues
PIIX4E And Celeron Support
For the motherboard to support PIIX4E (Ultra DMA data transfer) or the Celeron CPU, you need to download and install BIOS version P08.0010. from Packard Bell's support site.
EDO 16MEG DIMMS Cause System To Just Beep
EDO 16MB DIMMs will not function in any slot using one or two DIMMs. The system will return no video, and a POST beep code will occur when powered on. The beep code is: 1 - 3 - 3 - 1
This is because you must use SDRAM DIMMs. The memory requirements are as follows:
168 Pin Gold Plated, Unbuffered, Serial Presence Detect (SPD), 3.3 Volt DIMMs.
The DIMMs may be 8, 16, 32, 64, or 128 MegaBytes.
They must be at least 66Mhz
Yamaha OPL3-SA3 Sound Chip
Plug and Play : The Yamaha OPL3-SA3 is a Plug and Play sound system.
Compatibility : Soundblaster and The Microsoft Sound System compatible.
Sounds : Up to 18 simultaneous sounds.
Synthesis : 2-4 operator synthesis modes.
DMA : Dual DMA with FIFO for Full Duplex capability. Supports DMA demand mode.
Recording/Playback : 5.5KHz to 48KHz recording/playback.
Compression : Supports ADPCM compression/decompression.
Connectors :

MPU-401 compatible MIDI and Joystick Interface.
Line-In analog connector.
Microphone analog connector.
Line-Out analog connector.

Energy Savings : Supports Power Down Mode.
Mixing : Built-in 6 channel stereo mixer.
Drivers : OPL3SA.DRV, VOPL3SA.VXD, VSGM.VXD, VYMIXD.VXD
Known Issues
Why do video and CPU fan not work after replacing PB800 motherboard?
After an on-site for the PB800 motherboard in my system with a 233 MHz processor, there is no video and the CPU fan does not work. What can I do to get the system running again?
This situation might occur when the BIOS of the replacement motherboard has not been set back to its original settings. The motherboard probably has been tested in the factory with a faster CPU.
The solution for this issue is to reset the BIOS settings to their original values. To achieve this follow these steps:
Open the case; please consult the Quick Start Guide for more detailed instructions
Locate jumper J8B2 and set it to position 2-3 in order to gain access to the BIOS setup
Boot the computer and enter the BIOS Setup
Change the following BIOS values:

CPU speed into 233 MHz
Serial port A into COM1
Serial port B into Disabled
Parallel port into LPT1, IRQ7

Save these changes and reboot
Power down again and reset jumper J8B2 to position 1-2
Close the case